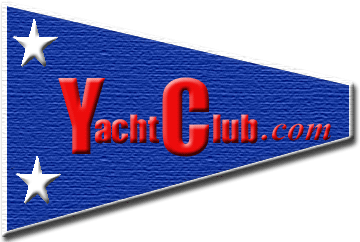 Top Ten Yacht Clubs in the USA
We sincerely apologize, but our competition sponsor has had a major financial crisis this Summer and has asked to postpone the contest to 2003.
The Yacht Club evaluation was to take place during July and August at a cost of around $25,000 in flights, rooms, meals, and trophies for the respective clubs. The flights and rooms are for the judging panel to visit the top 25 clubs and for the 1st and 2nd place Commodores to fly to and stay in San Francisco.
This is a setback for us at YachtClub.com, but we expect to secure the financing for next year's competition. Thank you for you patience.
Trophies will be given to the Top 10 at the end of each year
for more on the competition click here


us with your choices
Click Burgee to go to Yacht Club's site
This Growing List has the Yacht Clubs to be considered and reviewed
These clubs were placed on this list because of members votes
and meeting the criteria listed below
They will be voted on by our expert panel from July through September, 2003
No Judging or ranking for 2002
Rank

Burgee

Yacht Club

New York Yacht Club
New York
Grand Daddy of the US
Americas Cup


St. Francis Yacht Club
Best of the West
Most beautiful view
in the world
Big Boat Series
Location, Location, Location

Southern Yacht Club
New Orleans, Louisiana
One of Americas Oldest
Lots of Racing
Great Bar

St. Petersburg
Florida
Beautiful Facilities
Friendly, Nice Marina
Great Restaurant and Bar
St. Petersburg Trophy

San Diego Yacht Club
California
Great Club and Marina
America's Cup Defender
Yachting Cup
Great Bar and Restaurant

Chicago Yacht Club
Illinois
2 Great Club Houses
Great Seasonal Racing
Wonderful Patio in the Summer

Bayview Yacht Club
Detroit, Michigan
Entusiastic Members
Great Racing

Seattle Yacht Club
Washington
Beautiful Club
Great Racing
Warm and Friendly

Lakewood Yacht Club
Seabrook, Texas
Beautiful Club
Well Managed
Wheels & Keels
Concourse

Indian Harbor Yacht Club
Connecticut
A Commitment to
Member Satisfaction
Beautiful Facilities

Boston Yacht Club
Massachusetts
US Power Squadron
Nathaniel Herreshoff
American Tradition

Annapolis Yacht Club
Maryland
Great Racing Club

Balboa Yacht Club
California
Great Racing Club
Great Junior Program

Newport Harbor Yacht Club
California
Great Racing Club
Lovely Facilities

Detroit Yacht Club
Michigan
Considered the Jewel of the City
Largest Club House in USA

Other Clubs Recieving more than 2 votes so far:
Criteria not been checked on clubs listed below - Yet!
Noroton Yacht Club - Darien, Connecticut
Youngstown Yacht Club - Youngstown, New York
Huntington Harbour Yacht Club - Huntington Harbor, California
Norfolk Yacht and Country Club - Norfolk, Virginia


More on the Top Ten Yacht Club Competition

The actual competition started in January and runs through September.

Our Sponsors have generously donated 10 Trophies that will impress even the snootiest clubs in the world.

We will have a panel of experts chose from the top 30 clubs in the US in August.

The Experts are Club Managers, Staff Commodores, Caterers, Event Promoters, Celebrities, Yacht Racers, and Advertisers.

The Trophy Presentation will be in September in San Francisco during Big Boat Series
Criteria:
Club Beauty
Racing Program
Restaurant / Bar
Hospitality
Location / View
Slips (extra credit)
Dockmaster (extra credit)
Staff (could be a plus or minus)
Must be open 3 days a week or more